SARex and SariNor
Maritime Forum Nord has led the work on two major investigations on emergency preparedness, search and rescue in Arctic regions - SARiNOR.
The reports document that the Norwegian SAR preparedness is not designed to handle the ever increasing risk of accidents as a result of the growing activity in the Arctic. Based on these findings, SARiNOR has made a number of professional recommendations for follow-up both from the authorities and the industry.
As part of such a follow-up, the industry, under the leadership of the Maritime Forum Nord have initiated a major development project - SARex Svalbard. The purpose is to develop new knowledge and expertise through full-scale exercises, testing procedures, equipment and technology.
SARex Svalbard is a project that runs over 2 years. Each year there will be carried out at least one full scale, field exercise in the vicinity of Svalbard. Through use of full-scale tests and exercises, the project will develop new knowledge. Representatives from academia, official authorities, material-, and equipment-suppliers, service providers, industry and public bodies will exercise an active role throughout the project.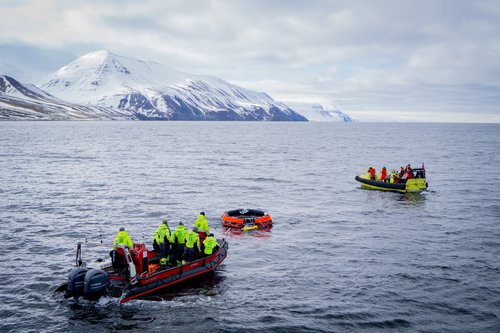 SARex Svalbard will address practical and operational challenges and issues related to survival, search and rescue, and preparedness against acute pollution (oil-spill), with the aim to map gaps and find solutions.
The project's Steering committee, consisting of selected public bodies and business organizations - will determine which specific issues that should be prioritized.
In addition to the members of the steering committee, SARex Svalbard will gather a strong academic consortium consisting of national and international participants. Together with the industry, they will be involved and engaged, in order to work on finding solutions to the selected issues.
The project will generate empirical data that can be used by the participants for further development of materials, equipment, methods, procedures, processes, guidelines and regulations. The project will also help to identify relevant clusters to develop new and innovative solutions to issues revealed during the project period.
We are proud to be part of such an important work to improve the preparedness in the Arctic.
Sources: Maritimt Forum Nord