Sealift FEB meets new IMO Regulations
01.01 2020 there will be a change in the IMO's regulations for fast express vessels that are used as passenger ships or cargo ships
All vessels built according to the HSC 2000 code after 01.01.2020 will be affected by the new resolution. This means that the vessels need a rescue system that allows them to pick up a helpless person from the water in horizontal to near horizontal position.
In the new regulations "Resolution MSC.424 (98) from report MSC 98 23 Add1", chapter 8 paragraph 8.10.1.6.1, 8.10.1.6.2, and 8.10.1.6.3 it sais;
"AMENDMENTS TO THE INTERNATIONAL CODE OF SAFETY FOR HIGH-SPEED CRAFT, 2000 (2000 HSC CODE)
Chapter 8
Life-saving appliances and arrangements
Survival craft and rescue boats
Paragraph 8.10.1.6 is replaced with the following:
.6 craft of less than 30 m in length may be exempted from carrying a rescue boat, provided the craft meets all of the following requirements:
.6.1 the craft is arranged to allow a helpless person to be recovered from the water in a horizontal or near-horizontal body position;
.6.2 recovery of the helpless person can be observed from the navigating bridge; and
.6.3 the craft is sufficiently maneuverable to close in and recover persons in the worst intended conditions."
Together with the Norwegian companies Norled As, Rødne As and Innovation Norway, we have created a system for this purpose. Sealift For Express Boats (FEB) meets the new IMO resolution MSC.424 (98), which applies from 01.01.20.
As part of the "Sealift Method", Sealift FEB is a rescue system for passenger boats, catamarans and windmills. The system will be able to retrieve a person in a horizontal position from sea to deck, in a safe and gentle manner without the risk of rescue personnel.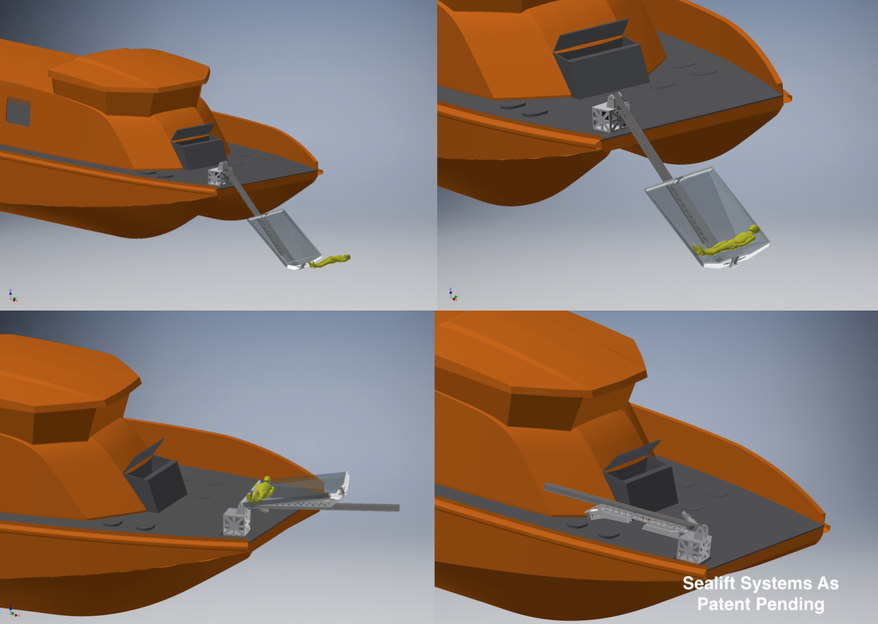 Since the system is designed and made specifically for these types of vessels, the weight and storage of the system is taken into account. The rescue system is easy to use and can be operated by one man, either from the bridge via the control panel or locally at the system's location on board. The system can be retrofitted to any vessel, new and old, including vessels with less deck space.
The Norwegian Maritime Authority states that the new rules will be implemented in regulations concerning the construction, equipment and operation of high-speed vessels used as passenger ships or cargo ships, which will applicable from 1st of January 2020.
Sources:
- NMA,
- MSC 98/23 / Add.1 - REPORT OF THE MARITIME SAFETY COMMITTEE ON ITS NINETY-EIGHTH SESSION - RESOLUTION MSC.424 (98)
Lovdata - https://lovdata.no/dokument/SF/forskrift/1998-01-05-6